MBISS MBOSS GCHG CH Wavemaker Nonesuch TT DN CGCA CGCU TKN VHMA VSWB FITG CHIC
'Felix'
Clyde x Bay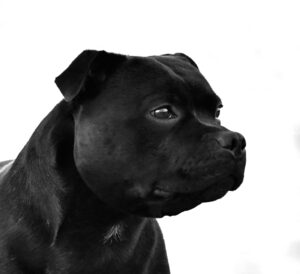 http://www.sbtpedigree.com/dogarchive3/details.php?id=2947589
Clear by DNA – L2-HGA, HC, DM, OFA Eyes 2019 – 2020 – 2021 – 2023
Patella, Cardiac, PennHIP L 0.43 & R 0.45, OFA Thyroid, OFA Dentition – correct scissor bite, no missing teeth, OFA Elbow Normal, Nares clear/open – no evidence of elongated soft palate, no evidence of Esophageal Malformation (by sedated scope – Dr. McGuffin, OH).
Full IDEXX semenalysis report available.
D/D, KB/ky, Ay/at, E/E, B/B
https://www.ofa.org/advanced-search?f=sr&appnum=2110308
'Felix' is available at stud on a limited basis to appropriate fully health tested bitches who would compliment his type and style. Frozen (on both coasts) and fresh semen available if schedule permits – Limited live cover availability due to his busy schedule. Email to inquire.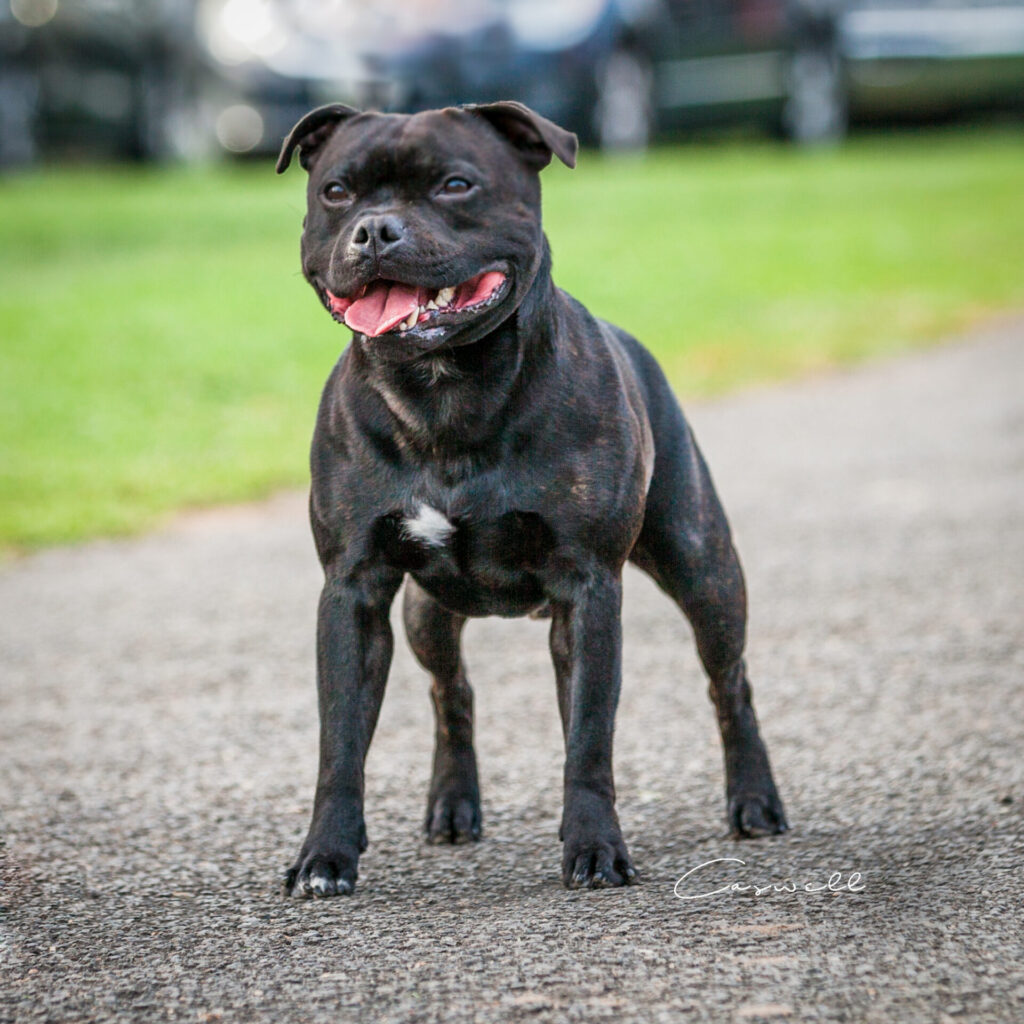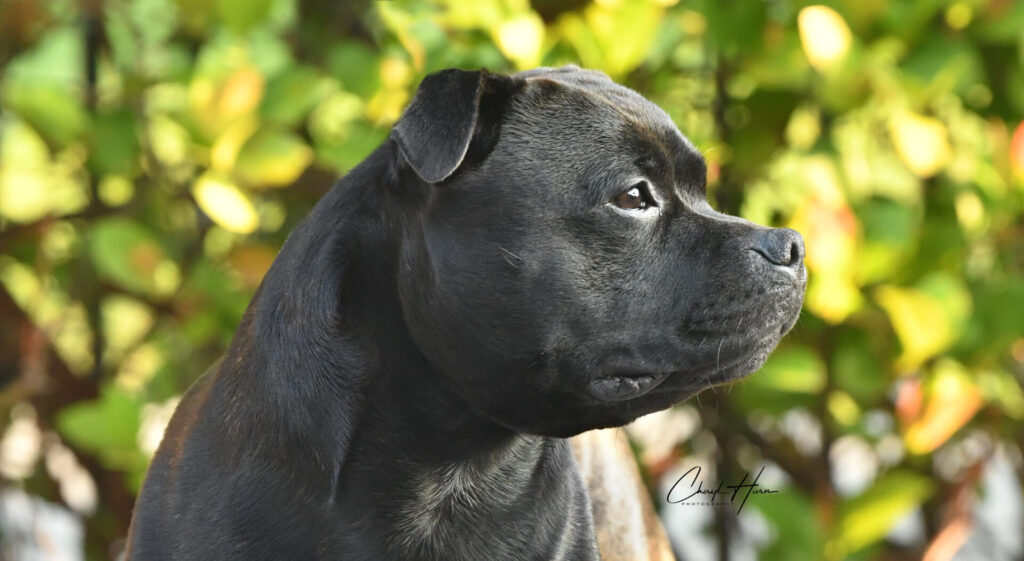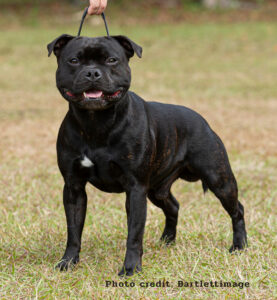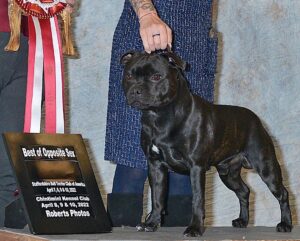 UK SLOV SK WORLD MULTI INTL CH Stormbull Solo JW
x
CH Wavemaker Briny Breezes DM DSA AJ CGCA CGCU TKN VHMA VSWB
---
NESBTC - 9th September 2022
Judge: Karon Jackson
'Jackabyte' Staffordshire Bull Terriers UK

SELECT DOG
GCHS WAVEMAKER NONESUCH TKN VHMA CGCA CGCU TT VSWB 
"This dog has numerous virtues and many are easily noticed just from a first look. Upon physical examination I found his expression to be very pleasing and typical of the breed from a lovely head piece with good eye placement and neat well placed ears. Clean lipped. Good underjaw. Enough width of chest. Straight front and good well padded feet. Lovely profile to him when viewed on the
move. Muscular rear quarters showing power and drive."
Western States Staffordshire Bull Terrier Club
15th October 2022
Judge: Fiona McBride "Brohez" Australia

BOS 
GCHS WAVEMAKER NONESUCH TKN VHMA CGCA CGCU TT VSWB
Black Brindle male. A masculine dog with excellent bone and substance oozing breed type with loads of virtues, he is balanced from all angles filling my eye. His head is of excellent proportions having good width depth and rise of skull, his round dark eyes are correctly set and well filled under, with prominent
cheek muscles. His muzzle is strong and clean housing a correct bite with good depth of underjaw. When alerted his commanding presence and impressive headpiece with the tidiest rose ears which framed his face captured my attention. Straight in front with depth and width his forechest comes to hand, strong pasterns well padded feet with slight turn out. His muscular neck widening into clean well laid shoulders, brisket to elbow, a sturdy topline, he is well ribbed back with good spring, close coupled with nicely turned muscular rear and show of second thigh, he moved with equal reach and drive maintaining a level topline.
A pleasure to assess, pleased to award him BEST OF OPPOSITE SEX.
Black Mountain Kennel Club
October 15 2022
Judge: Helena Mudrová

SELECT DOG
GCHS WAVEMAKER NONESUCH TT CGCA CGCU TKN VHMA VSWB
An impressive brindle dog, with a distinctive clean head. Perfect dark eye, ear too, correct bite. The expression is cheerful and bright and indicates a great character and temperament. The dog is in great shape, which indicates excellent musculature of the whole body. Spacious chest with correct ribbing, correct strength of frame. The movement is dynamic, based on the well-muscled rear part. Perfect dog, I'm glad I could judge him.
Columbia Terrier Association of Maryland, Inc
Potomac Staffordshire Bull Terrier Club
Friday April 21st 2023 – Judge Miss Helen Wall (Goldwyn)

Select Dog – GCHS CH Wavemaker Nonesuch TT DN CGCA CGCU TKN VHMA VSWB FITG
Perfect head shape with keen expression, short and square in foreface, with a correct mouth and bite, strong neck leading into a correct lay of shoulder.  Good spring of rib with a short compact body with ample tuck up.  Enough bend of stifle with well let down hocks, presented in very good condition.