UWPCH AM-CH Ramstaff's Black Eyed Pea, CAX RN CGC TT TKN
'P-nut' (2003 – 2019)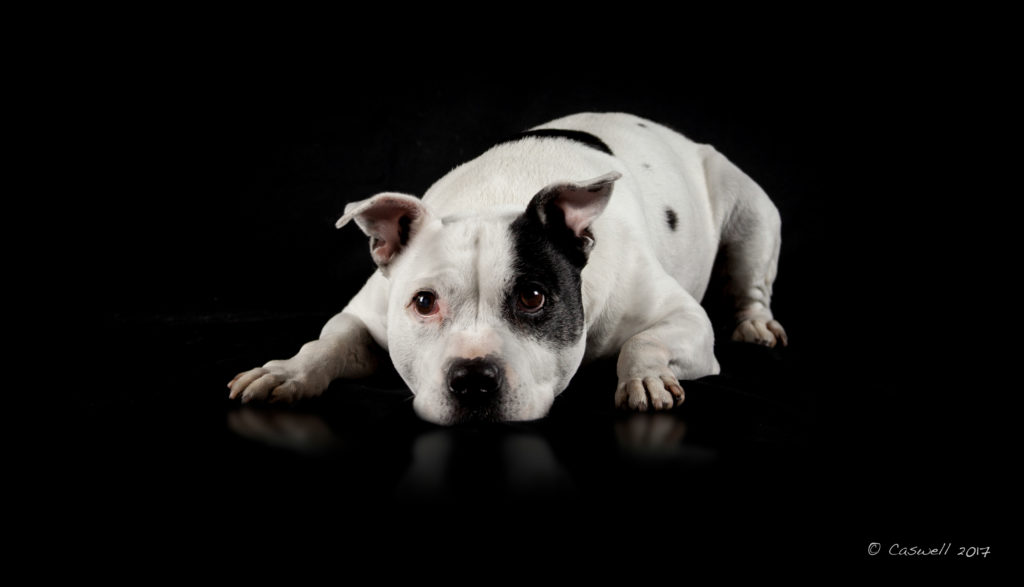 'P-nut' is L2-HGA clear by DNA, CERF, OFA CARDIAC – Spayed, never bred.
http://www.sbtpedigree.com/dogarchive3/details.php?id=1665999
'P-nut' was always quite a handful – full of personality, full of charm and spirit! She was a true Stafford in temperament for sure. She loved sports – all sports but 'P-nut' discovered her passion at age 6. She lives for weight pulling! She earned her UWPCH pulling both wheels and rails. Her top pull was 1880lbs! She gave Rally a try but seemed a bit bored with it. She has been training for agility and also gave Obedience a try. 'P-nut' enjoyed the conformation ring a few times as a veteran. We used to joke that we could tell her the ring number and time, tape a number to her collar and send her out to show herself! The handler was always insignificant to her! Thank you Kevin and Angie Beezley for trusting us with this fun pied girl!
P-nut won Reserve Altered Best In All Breed Show at a UKC Show in Perry Georgia at 8.5 years old!
At nearly 8 years old 'P-nut' earned her Coursing Ability title and at 8.5 years she is the oldest Stafford to earn her Coursing Ability Advanced title and at 9.5 she has earned her CAX! She is the oldest Stafford to earn this title so far and our 2nd one to earn it! That takes 25 qualifying runs of 600 yards in under 2 minutes to catch the 'bunny'. All of our dogs ran the FULL course of 600 yards to compete while some Stafford owners only run theirs a half course.
At nearly 10 years old P-nut won Best of Opposite Sex Veteran at the SBTCA 2013 Regional Specialty at Purina Farms under judge Judy Heller (Moonstruck) and at 13 years old 2nd Veteran Bitch in Las Vegas, NV under judge Karen Horley.
Critique from Judge Yas Parr – SBTCA National Specialty – Friday, May 24, 2013
9-11 Yrs – Veteran Sweepstakes class
1st – 410 – CH. Ramstaff's Black Eyed Pea – Black & white pied. Very healthy looking old girl. Another one that really is a credit to her owner. She was very lively and was bouncing around like a puppy, she barked non stop and really seemed to enjoy her day out. Still has lots of muscle and no doubt can still achieve anything asked of her. A lesson to other Stafford owners on how to look after a dog, very impressive.
Pnut lived to be almost 16 and still when we said goodbye it seemed way too soon. She will always be missed and remembered with smiles. RIP Pnut.