CH Ashstaff Wavemaker Close To U CGC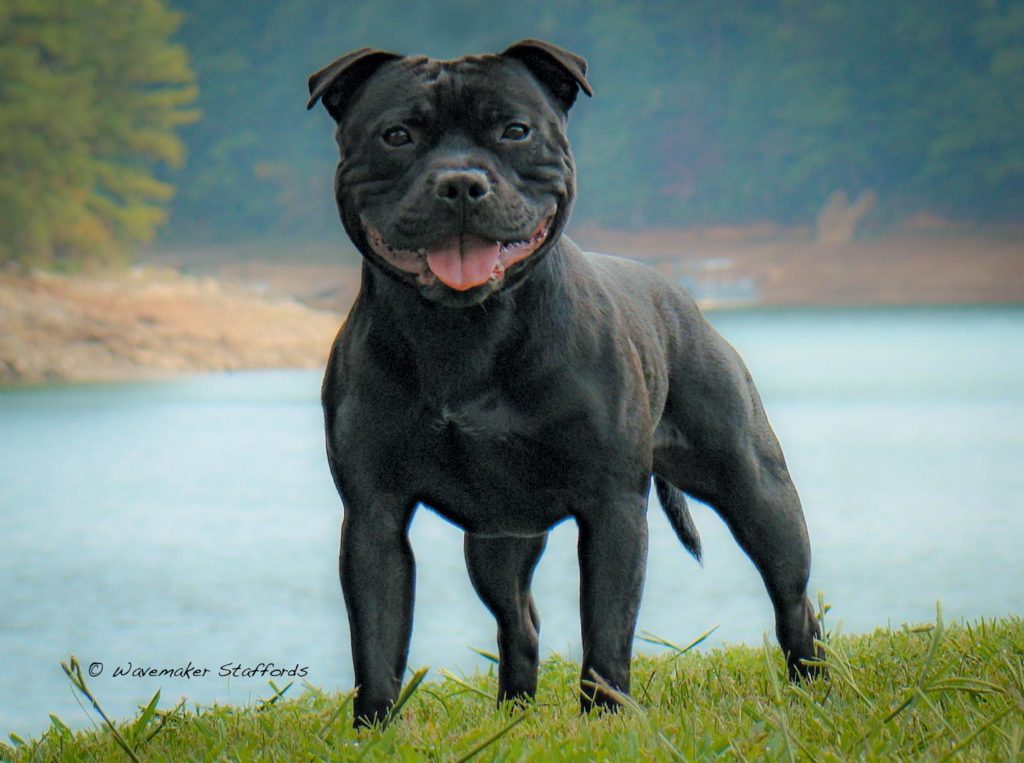 'Captain'
'Captain' was L2-HGA Normal (clear) & HC Normal (clear), PHPV Unaffected, OFA hips fair
Semen is no longer available from Captain
http://www.sbtpedigree.com/dogarchive3/details.php?id=1604109
"Captain" enjoyed great success in the show ring during his lifetime. Winning at Devon, Hatboro and many other large shows. He was a really easy dog to live with and made life so enjoyable. He was tragically taken at a young age in an accident and is dearly missed.
Am-CH, U-CH Wavemaker Spincaster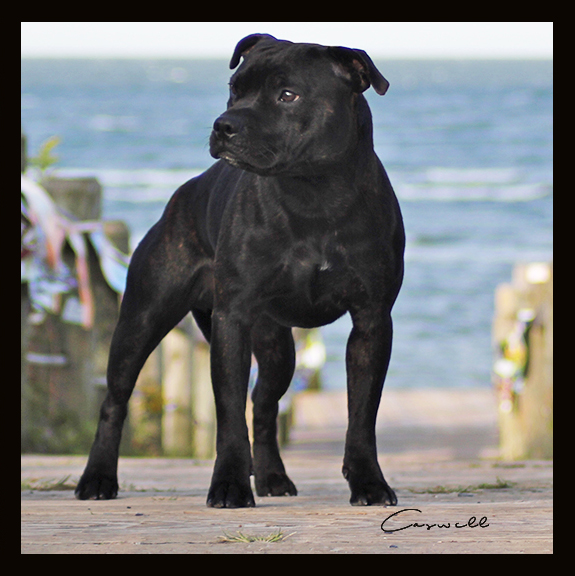 Tyler x Nealie
'Tackle'
'Tackle' is L2-HGA Normal (clear) & HC Normal (clear), PHPV Unaffected – D Locus DNA marker tested – C.22G>A -/- (does NOT carry dilute gene) Not yet tested for tan points.
Sadly we received word that Tackle passed away in some sort of accident while in the care of his owners. We are devastated as he had an important pedigree and had been sought after as a stud several times by good friends but for some reason it was never able to be arranged by his owners.
http://www.sbtpedigree.com/dogarchive3/details.php?id=843941
"Tackle" is also the name of a very famous brindle Stafford who was owned by Mr. H. N. Beilby sired by 'Jim the Dandy' and out of 'Needle'. He was once awarded a Challenge Certificate and was also awarded Reserve Best Dog at the very first show given by the Southern Counties Staffordshire Bull Terrier Society on Saturday May 1st 1937 under judge Mr. James Saunders. There were 78 entries with thirty dogs recorded. The show was won by "Game Laddie" who later went on to become a UK Champion.
He earned a 5 point major towards his AKC Grand Championship his 1st time out as a Champion and is currently more than halfway to his AKC GrCH. He won Best Puppy in Sweeps both days at the 2011 NESBTC Stafford Classic.
PSBTC Stafford Extravaganza / COLUMBIA TERRIER ASSN OF MD, INC. FRIDAY APRIL 22ND. 2011.
Jim Byrnes (Lackyle) CRITIQUE
Minor Puppy:
1st. Aguillard, Gonzales & Lynn & Jim Caswell. Wavemaker Spincaster.
A very classy brindle dog just right for his age. Clean head shape with nice rose ears, good dark eye, nice stop, correct bite, clean front, good feet, nice reach of neck, ample rib for age, nice tuck up at loins, good turn of stifle, correct tail set, moved well both going and coming and held top line on move. Won the class with ease.