CH MACH2 Wavemaker Atlantica CD MX MXS MXJ MJS NF DS TT HIT CHIC
'Schooner'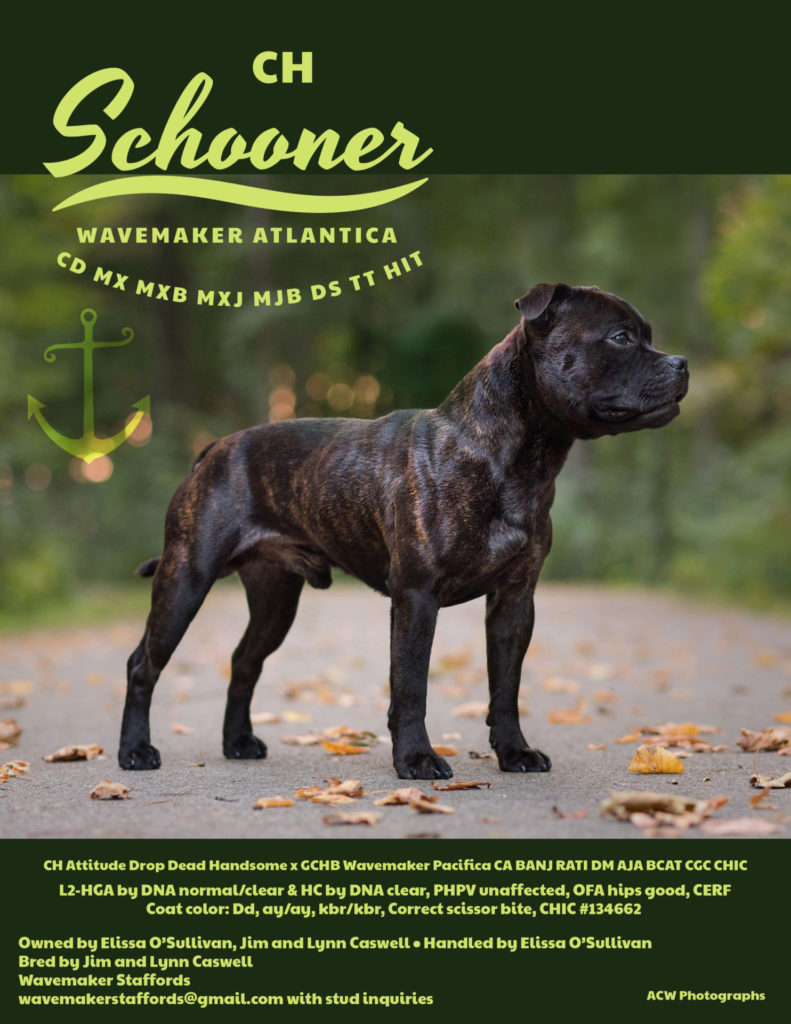 Rafa x Marina
'Schooner' is L2-HGA DNA Normal (clear) & HC DNA Normal (clear), PHPV Unaffected, OFA hips GOOD, CERF.
http://www.sbtpedigree.com/dogarchive3/details.php?id=1604565
'Schooner' is available at stud on a limited basis to appropriate fully health tested non dilute carrying bitches who would compliment his type and style. Frozen and fresh semen available. Limited live cover availability due to his busy performance schedule. Email to inquire.
This handsome little handful is full littermate to Roka and Bay and Sailor (Rafa x Marina). He easily championed exclusively handled by his co-owner Elissa and completed his majors under Stafford breeder judges at specialties, including making the cut at the 2017 Las vegas National Specialty weekend with an entry of 100+. Schooner is the current NUMBER ONE agility Staffords as of AUG 2023!
Schooner also has titled in NADD Diving Dogs, been invited to the NADD National Championship 3 years running and also shares his mother and sisters enthusiasm for swimming. He just began to learn Air Retrieve as well. He competes weekly in agility and is a ROCKET in a tiny package! He ended the 2018 year as SBTCA #3 Regular Agility Stafford and NADD #3 as well! Recently Schooner and Elissa were HIGH IN TRIAL for SBT and also all-breeds at the Louisville, KY SBTCA National Specialty. Schooner competed in Orlando this year at the Obedience Classic and the Agility Invitational 2019, 2020 and will again in 2021. Schooner also won an invitation to the 2021 National Agility Championships which will be held April 2022 in Ocala, Fl. Schooner finished 2021 as #2 Stafford!
Schooner is producing intelligent, correct well-structured Staffords with high biddability and reliable temperaments. We attribute his great start using Puppy Culture protocols plus the excellent care and training provided to him by his owners – Elissa and Roger. Looking forward to watching this exciting team for a long time.
---