UWP Am-CH, U-GrCH Wavemaker Hula Popper CAX  CGC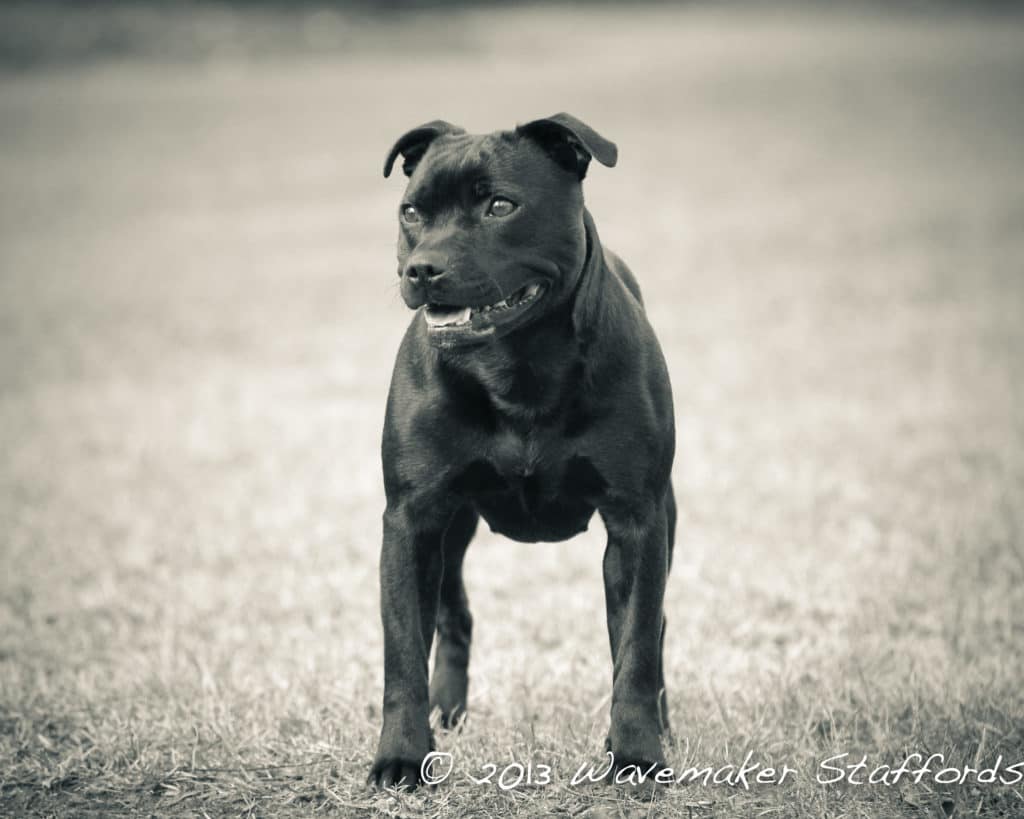 'Hula'
'Hula' is L2-HGA Unaffected & HC clear, PHPV Unaffected, OFA Cardiac Normal, OFA Hips Good, Elbows Normal, Patella good, CERF
Spayed and happily retired and is now living with her best friend Abbaz, a Stafford born in Norway and her loving family in Georgia. She is spoiled rotten and happier than she has ever been! Hula is a working Diabetes Alert dog.
http://www.sbtpedigree.com/dogarchive3/details.php?id=1604500
'Hula' has a lot of energy and is very independent. She won BOS Sweepstakes in Perry her first time in a ring! Her body style is similar to her dam plus she has a gorgeous head and ear set. She is extremely athletic jumping from a standstill up to 6'!
Her temperament is just about as perfect for a Stafford as they come. She is very drivy and high energy but has an 'off' switch which is important if you want to live with a Stafford – very important! She can be vocal and loving – she loves being with her people! Hula cannot be around cats!
"Hula" is currently the 2nd Stafford to earn the AKC Coursing Ability Advanced title and the youngest to earn any AKC CA, CAA and the FIRST SBT to earn the CAX! "Hula" was #2 SBT in UKC 2012 and she has produced 1 GCH and one only needing 2 singles to CH so far. She had a dual sired, international litter of gorgeous puppies. Hula also loves Barn Hunt and Nosework and she loves to swim.