Let's discuss exaggeration in the Staffordshire Bull Terrier.
General Appearance
KC: Smooth coated, well balanced, of great strength for his size. Muscular, active and agile.
AKC adds: "The Staffordshire Bull Terrier is a smooth coated dog.
It should be of great strength for its size and, although muscular, should be active and agile."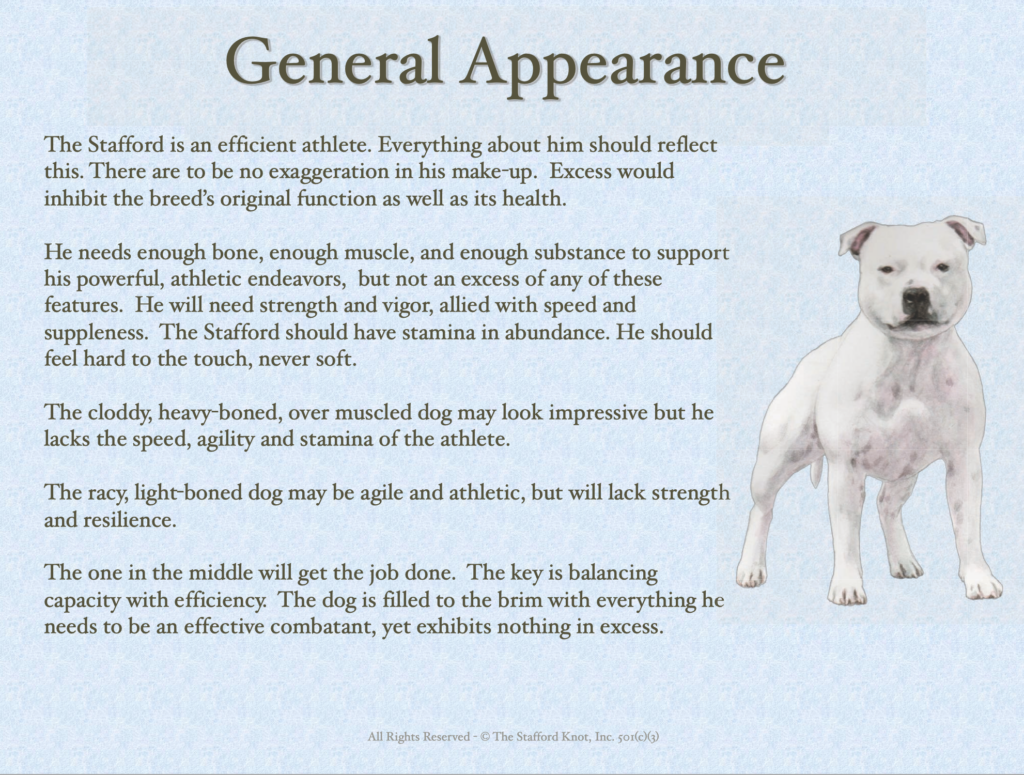 We are not looking for a heavyweight – we are not looking for a racy specimen – we are looking for the ONE IN THE MIDDLE! When we balance capacity with efficiency we are more likely to find a specimen with good healthy stamina, strength and agility. We will find BALANCE!
There is a movement across the world to put restrictions on producing breeds with health issues such as short muzzles. In some cases these dogs suffer from breathing difficulties such as overlong soft palate, tracheal deformities, stenotic nares and other structural and health related issues coming from exaggeration in structure. . The Stafford DOES NOT want to be added to the list of brachycephalic breeds. We want a muzzle that is no shorter than one third the length of the skull (look from the top or profile and measure). I recently learned that many people are misinterpreting the 1/3 to 2/3 ratio when it is written like that. It is not one to three or two to three. It is ONE THIRD to TWO THIRDS. One third muzzle length to two thirds skull length. The muzzle depth should be approximately one half the total head depth. (measure from underjaw/neck to occiput/topskull).
Additionally, so very many people misinterpret the breeds responsible for our blended breed. The name says it all – Staffordshire (where they originated in UK) Bull (the now extinct bulldog which as far as we can tell resembled a leggy American Bull dog type) Terrier (from the now extinct English White Terrier which resembled todays Manchester). So a balanced Stafford is NOT like an English Bulldog mixed with a Terrier.
Look for a clean head, no wasted effort/energy when moving, no wrinkles anywhere (none on head, face, shoulders, tails, legs – no wrinkles!). Do not be impressed by exaggeration!