URO1 UWP Am CH UGrCH UNJ Cazomic Look Busy BN RN RATN CAA BCAT TKN CGCA/U VHMA VSWB
Dylan x Kodi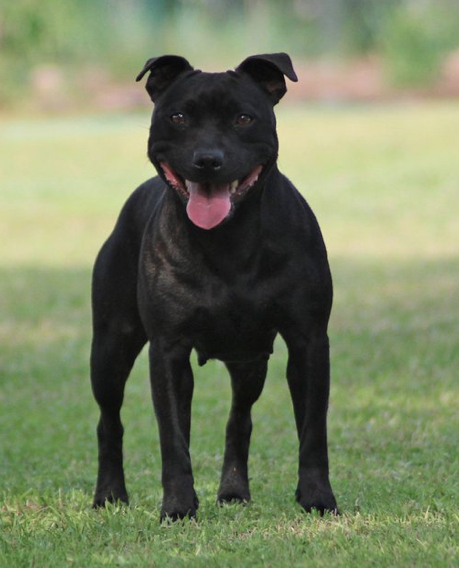 'Nealie'
'Nealie' is hereditarily unaffected/clear for L2-HGA & HC- which can be seen on her KC Export Pedigree paperwork.
CERF (2010. 2011, 2012) – OFA Cardiac normal – PHPV Unaffected – Patella Normal – OFA Elbows Normal – OFA Hips Good – Spayed
http://www.sbtpedigree.com/dogarchive3/details.php?id=843942
SBTCA 2012 TOP BROOD BITCH!
'Nealie' finished 2009 at #10 SBT in UKC Standings her 1st year out! She is also a UKC Grand Champion. She earned her UWP in one weekend plus 15 points toward her UWPCH pulling almost 28 x body weight.
'Nealie' is extremely athletic and passes this attribute down to her offspring. She loves her flirt pole, swimming, biking and lure coursing more than anything except perhaps playing with other dogs. She has earned two legs towards her CD title including a HIGH IN TRIAL and SBTCA National Specialty, a Beginner Novice Obedience title, Rally Novice title and 3 1st places in UKC Rally, she was among the first titled VHMA and VSW Staffords – all 4 firsts came from Wavemaker. She is a gentle soul, terrific with children and loves everyone she meet – 2 and 4 legged varieties. Nealie is the only current AKC Ambassador Stafford.
She has already proven herself to be a wonderful foundation to Wavemaker Staffords. 'Nealie' is a fantastic producer with 5 Champions so far from her own children and 5 Champions of her grandchildren and 2 great grandchildren Champions so far with many many performance titled children, grandchildren and great grandchildren. Thank you to Carol Jenkins-Salter for trusting us with this spirited Welsh beauty.